Unlock boxed oil savings.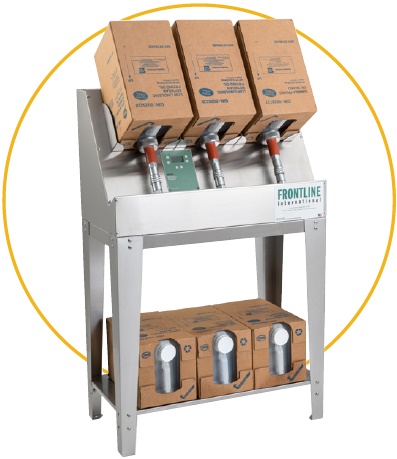 Fresh Oil
The EZ Oil™ System is an automated, convenient, safer and more cost-effective way to re-fill fryers with fresh cooking oil. With EZ Oil, stack fresh cooking oil boxes on a space-saving storage rack plumbed directly to the fryers. Simply place boxes or jugs upside-down in the racks, connect with a fresh oil pump station, and fill your fryers using the convenient, no-mess dispensing wand — or direct plumb to the fryer for a fully automated solution. Upside-down storage dispenses every drop of oil, increasing yields by up to 10%!
Cooking oil is significantly less expensive when delivered in the box because you aren't paying an exorbitant markup on essentially low-grade cooking oil. You can pay less and choose heart-healthy, better-quality oil (a distinction you can list on your menu). Better quality oil lasts longer in the fryer, too. And boxed oil reduces total distribution costs by increasing the bundle of goods coming off your existing foodservice distributor's truck.
The benefits of Fresh Oil:
Minimal handling of fresh cooking oil
Insurance and Workers' Comp savings
Less employee downtime
Labor savings and greater employee safety
Great option to bulk delivery of cooking oil
Avoid pollution fines